Wesley Elliott Bio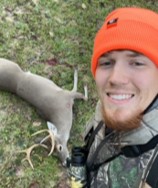 Occupation: roofing sales rep
Family members: Brent Elliott (father) Michelle Elliott (mother) cay Elliott (sister) McKenna Elliott (sister)
Home town: Eustis Fl
Favorite outdoor activity: whitetail hunting
Favorite places to go: church, woods, and any body of water!!
All time outdoor highlight: watching my best friend harvest his first deer. Also harvesting my first deer with my father!
Best fishing memory: catching my personal best large mouth bass (10lb14oz) on top water with my best friend!!
Favorite fishing technique: flipping grass and docks
Favorite place to shop for outdoor gear: bass pro shop 
Favorite piece of equipment: first gun 30-06 and my truck
Favorite wild game: venison 
Item in first aid used the most: band aid 
Person responsible for my outdoor love: my father (Brent Elliott)
Favorite scripture:Mathew 23:12 
Spiritual lessons learned on outdoors events: the main lesson I have learned through the outdoors and people who also share a passion for the outdoors is that you can find peace with the Lord through the smallest things in life. When you get to sit in a tree stand for sunrise and watch the world work as God intended it is eye opening to me and can bring a whole new meaning to "hunting". I have also learned from the few iron man trips I have been on that the outdoors isn't just an escape but is also a tool we can use to bring more men into a relationship with our Lord and savior. Attending these Ironman trips have been a blessing for me and countless others, I am excited to be a part of this team!!