Walter Cooley Bio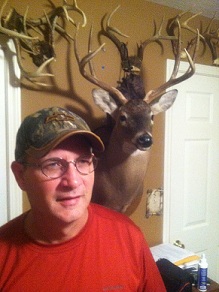 OCCUPATION:
Paper mill Reliability Technician
FAMILY MEMBERS:
Bryan (son) his wife Kristen
Grandkids - Brinkley and Blaze
Brittney (daughter) her husband Kee Dykes
HOMETOWN:
Petal MS.
FAVORITE OUTDOOR ACTIVITY:
Fishing/hunting
FAVORITE PLACES TO GO:
Louisiana Marsh and My shop ( I like to build old cars and trucks)
BEST FISHING MEMORY:
Making the 2 hour trip to Louisiana Marsh and fishing all day with my son as he grew up.
FAVORITE FISHING TECHNIQUE:
Plastic grubs and top water plugs
FAVORITE PLACE TO SHOP FOR OUTDOOR GEAR:
Bass Pro Shop
FAVORITE EQUIPMENT (GUNS, BOATS, REELS, TENTS, ATVS, CLOTHING,ETC):
My 19ft Scout bay boat, and my cars--1970 SS Chevelle, 1970 GTO Judge, 1972 Chevy truck, 1969 Camaro
FAVORITE WILD GAME FOOD:
Fried Speckle Trout
PERSON MOST RESPONSIBLE FOR CULTIVATING YOUR LOVE FOR THE OUTDOORS:
Harold Dillon (my father-in-law)
FAVORITE SCRIPTURE:
I Samuel 16:7 - But the Lord said until Samuel, do not look on his appearance or his height of his stature because I have rejected him. For the Lord see not as man sees. Man looks on the outward appearance but the Lord looks on the heart.