Troy Cornett Bio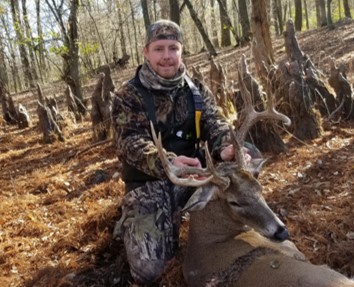 Occupation: Landlord
Family members: parents, 3 brothers, 7 nieces and nephews
Hometown: Granite Falls, NC
Favorite outdoor activity: deer hunting
Favorite places to go: Colorado
All-time Outdoor Highlight: harvesting a non-typical off of public land in Mississippi... never forget it
Best Fishing Memory: landing a 8 ft manta ray on 15lbs test in FL
Favorite Fishing Technique: anything top water
Favorite place to shop for outdoor gear: academy sports
Favorite equipment (guns, boats, reels, tents, ATVS, clothing, etc): my elite answer hands down
Favorite Wild Game Food: bacon wrapped deer right off the grill
Item in first aid kit you use the most:
Person most responsible for cultivating your love for the outdoors: Roger Gilliam, like a grandfather to me.
Favorite scripture: 1 Corinthians 10:13
Any spiritual lessons you have learned on outdoor events: I have learned that wisdom comes from meditation and prayer which comes from quiet time with the Lord. And for me the time I spend in the woods and outdoors are rarely for hunting.