Tony Kahle Bio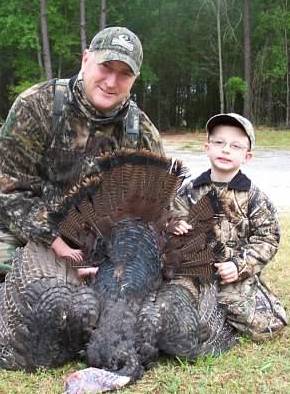 Occupation:
Customer Service Representative,
Family Members:
Danielle (wife)
Son's Tyler (7)
Landon (5)
Hometown:
Blythewood, SC
Favorite Outdoor Activity:
Anything outdoors, Hunting and fishing
Favorite Places to go:
Tropical ( with fishing )
All-time Outdoor Highlight:
Shooting a 20" 10 point in NC.
Best Fishing Memory:
Catching a 43" Blue Catfish ( Lake Wateree )
Favorite Fishing Technique:
Anything working that day.
Favorite Place to shop for Outdoor gear:
Academy sports, Wal-Mart
Favorite Equipment (Guns, Boats, Reels, Tents, Atvs, Clothing, etc.):
Old Winchester Model 70 Ranger 30-06 and my Honda 300
Favorite Wild Game Food:
Deep fried wild turkey
Item in First Aid Kit you use most:
Don't carry one,
Person most responsible for cultivating your love for the outdoors:
No one, I had nothing else to do growing up in Oklahoma
Favorite Scripture:
Psalms 23: The Lord is my shepherd, I shall not want, He maketh me to lie down in green pastures, he leads me beside the still waters, He restoreth my soul, He leadeth me in the path of righteousness for his name's sake.
Acts 10/ 11-13
Any spiritual lessons you have learned on outdoor events:
God works on men when in the right environment, and helps them to open up to discuss their inner most feelings.