Tommy Wise Bio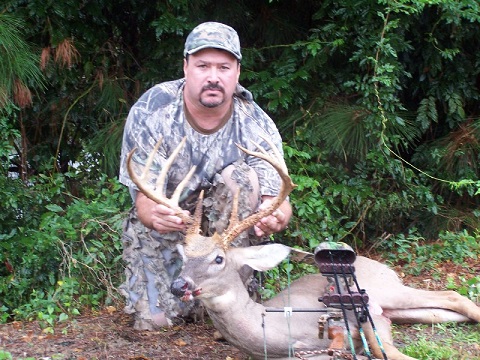 OCCUPATION:
FAMILY MEMBERS:
Kaye (Wife)
Lisa, Jessica, Ashley (daughters)
TJ - Son in Law
Grandkids - Makalah & Jordan
HOMETOWN:
Fuquay Varina, NC
FAVORITE OUTDOOR ACTIVITY:
Deer Hunting
FAVORITE PLACES TO GO:
A place I call the Farm in NC
ALL-TIME OUTDOOR HIGHLIGHT:
After introducing a person to hunting and being with them the first
time they harvest a deer
BEST FISHING MEMORY:
Being able to fish with my Dad and he caught eleven large mouth bass
weighing 76lbs 3oz
FAVORITE FISHING TECHNIQUE:
Using plastic worm
FAVORITE PLACE TO SHOP FOR OUTDOOR GEAR:
Bass Pro Shop
FAVORITE EQUIPMENT (GUNS, BOATS, REELS, TENTS, ATVS, CLOTHING,
ETC�¢?�¦):
Matthews Bow, Bone Collector Muzzle Loader
FAVORITE WILD GAME FOOD:
Grilled Tuna and Venison Kabobs
ITEM IN FIRST AID KIT YOU USE MOST:
Motrin
PERSON MOST RESPONSIBLE FOR CULTIVATING YOUR LOVE FOR THE OUTDOORS:
Gene O'Connell
FAVORITE SCRIPTURE:
I Samuel 16:7 - But the Lord said until Samuel, do not look on his
appearance or his height of his stature because I have rejected him.
For the Lord see not as man sees. Man looks on the outward appearance
but the Lord looks on the heart.
ANY SPIRITUAL LESSONS YOU HAVE LEARNED ON OUTDOOR EVENTS:
Came to realize most all men struggle in some of the same areas and
with keeping an open mind we can always learn from one another.