Todd Chambers Bio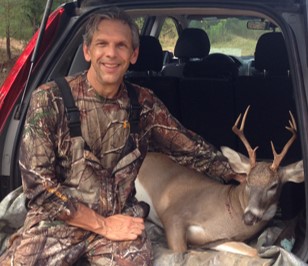 Family Members: Wife Liz, son Jacob, and daughter Hannah
Hometown: Alpharetta, GA
Favorite Outdoor Activity: Flyfishing for monster trout with tiny flies
Favorite Places to go: Fishing (it's a toss-up between chasing trout in the Tennesse tailwaters and Lake Lanier for striped bass. I love hunting deer and turkey in the south. And camping, hiking, and paddling with my family tops the list.
All-time Outdoor Highlight: Fishing and hiking with my family in Rocky Mountain National Park. That's a beautiful sight. Now if they'd only allow me to hunt all those elk...
Best Fishing Memory: I still remember the first time my father took me offshore fishing. Dang, that was a good time.
Favorite Place to shop for Outdoor gear: I love going to the Bass Pro Shops just to see all the cool gear. But when available I prefer to buy my turkey calls, knives, and flyrods fro local crafters.
Favorite Equipment (Guns, Boats, Reels, Tents, Atvs, Clothing, etc...): My fishing kayaks, Marlin 270 and the split cane bamboo flyrod I made myself for my 40th birthday.
Favorite Wild Game Food: Fried wild turkey
The person most responsible for cultivating your love for the outdoors: My father certainly recognized my love for the outdoors and supported it, but never really did much of it himself. My wife has been extremely supportive and understanding of my insane need to sit in a tree or wave a stick at fish.
Favorite Scripture: "For God hath not given us the spirit of fear; but of power, and of love, and of a sound mind." 2 Timothy 1:7
Any spiritual lessons you have learned on outdoor events: Two things: (1) Real men aren't afraid to pray with their wives. (2) A man's heart is uniquely open when he's in the wilderness.