Skip Liles Bio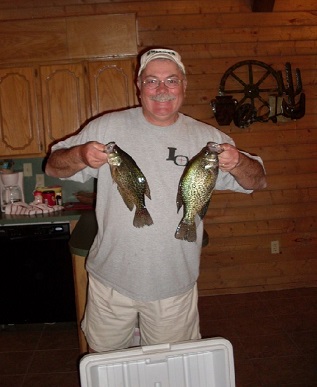 Occupation:
Retired United States Army
Family:
Sue (wife) Diana, Lisa, and Matthew
Hometown:
Fort Mill, SC
Favorite Outdoor Activity:
Fishing, shrimping and HAWG hunting
Favorite Place to go:
Lake Wylie-crappie, Cats..Charleston, SC
Best Fishing Memory:
Musky hunting (fishing) with my son, Matthew, and friend Mike, in Haywood Wisconsin in 2003. I take great delight in fishing with my son, and friends. Matthew 4:12
Favorite Fishing Technique:
Charter fishing, Lake Michigan, with the family. My wife caught the her first Rainbow Trout. Over 100 pounds of Lake Trout, and CoHo Salmon were caught on this trip. Using a Mud Puppy for Musky. Casting into the grass, wobble retrieve, acting like it was dying, Keeping an eye for the boil, and then "Hold On"....
Favorite Place to Shop for Outdoor Gear:
Outdoor World (Bass Pro), Cabelas (Ft Mill in 2015)
Favorite Equipment:
Ugly stick rods and my Winchester Ranger 20 gauge shot gun.
Favorite Wild Game Food:
Ring neck Pheasants, and Mallards
Item in First Aid Kit you Use Most:
Band-aids
Person Responsible for Cultivating Your Love of the Outdoors:
| | |
| --- | --- |
| God gave me the love of enjoying His creation. But, He also gave me the opportunity of having 4 men to share it with. Jimmy Houston. A TV personality showed me how to enjoy not only the fishing, but taking the time to look at the beauty of the day. He was not afraid to show thanks to his family, but show his thanks to GOD. Two friends Mike Erickson, and Arnie Melby . Friends to share the ups and downs of not only the hunting and fishing, but sharing life together. And my son, Matthew. When I wanted to hang the guns and poles, God gave me a son. To look at our creators creation from a young person view. The desire burns on. (31 years later) | |
Favorite Scripture:
John 8:12 I am the light of the world. He who follows Me shall not walk in darkness, but have the Light of Life.
Any Spiritual Lessons you have Learned in the Outdoors:
The GOD I serve is an AWESOME GOD. I have seen sin hardened men, melt in saying the name of Jesus. Men holding the guilt of some past incident, come away with relief and a sense of peace coming over them after professing. It never ceases to amaze me, when men think they are the only ones having a problem. GOD can fix what needs to be fixed. GOD works in His on time. You just never know.