Sam Storey Bio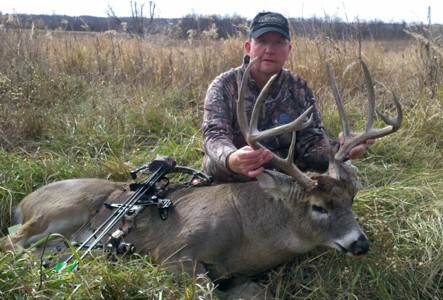 Occupation:
Lead Technician with Bosch
Family Members:
Karen (Wife)
Brittany
Lisa
Londyn my Granddaughter
Hometown:
Williamston, SC

Favorite Outdoor Activity:
Deer hunting and fishing with my family and friends.

Favorite Places to go:
Kansas chasing whitetails.

All-time Outdoor Highlight:
Sitting in the stand with my daughter when she killed a very nice 10 point and getting it all on video.
Killing the buck of a lifetime in Kansas with my bow. 181 6/8�, 300 lb giant!
Best Fishing Memory:
Fishing with my dad and both my daughters when they were about 12 years old at Broadway Lake. Lisa caught a bass close to 8 pounds!

Favorite Fishing Technique:
Throwing a jig or crankbait for bass.

Favorite Place to shop for Outdoor gear:
Bass Pro Shops

Favorite Equipment (Guns, Boats, Reels, Tents, ATVs, Clothing, etc.):
Browning 270 WSM, Mathews Bow, Skeeter Boats, DestroyerBaits Jigs, RainbowBaits Crankbaits

Favorite Wild Game Food:
Venison back straps on the grill or cooked all day in the crockpot.
Item in First Aid Kit you use most:
I keep one in the boat at all times. You never know when you will have to remove a hook and need something to keep you on the water fishingâ?¦. Speaking from experience on that one!

Person most responsible for cultivating your love for the outdoors:
My dad. He started taking me hunting and fishing at an early age. I still remember my first deer hunt like it was yesterday!

Favorite Scripture:
(2 Corinthians 5:17) Therefore, if anyone is in Christ, the new creation has come: The old has gone, the new is here! It speaks for itselfâ?¦ Jesus has made me a new person!

Any spiritual lessons you have learned on outdoor events:
Donâ??t get so caught up by trying to make an impact on the guys attending the retreatsâ?¦ God knows exactly what needs to happen on any given retreat. Often times I am the one who gets impacted the most by the guys I meet and seeing what God does on these retreats!