Robbie Dupree Bio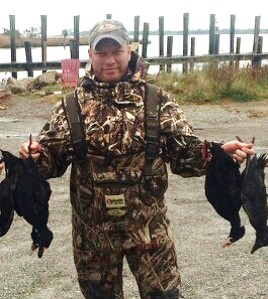 Occupation:
Product Design Engineer
Family Members:
Stephanie (Wife)
Brandon
Kendall
Parker

Hometown:
Willow Spring, NC

Favorite Outdoor Activity:
teaching my kids what God has given to us and how special it is; deer hunting

Favorite Places to go:
20 feet up in a box blind

All-time Outdoor Highlight:
Carrying my daughter on her first deer hunt, where she shot her first deer from 200 yds.

Best Fishing Memory:
Watching my son haul in 10 lb largemouth on 4 lb test
Favorite Fishing Technique:
Ultralight tackle, fly-fishing and top-water bass

Favorite Place to shop for Outdoor gear:
Bass Pro Shops, Fuquay Gun

Favorite Equipment (Guns, Boats, Reels, Tents, Atvs, Clothing, etc.):
Browning A-Bolt 7mm Super-mag
Favorite Wild Game Food:
Grilled Mahi-Mahi, Grilled bacon wrapped venison

Item in First Aid Kit you use most:
who needs first aid?

Person most responsible for cultivating your love for the outdoors:
my dad

Favorite Scripture:
Guard your heart above all else, for it is the source of life. Prov 4:23
Any spiritual lessons you have learned on outdoor events:
How awesome a God I serve.