Ray_Sanders_Bio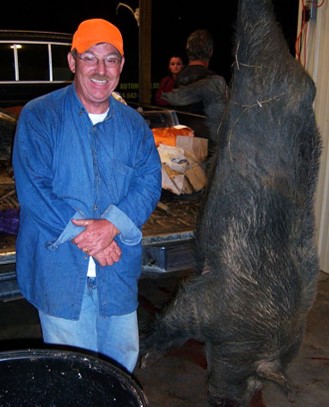 Occupation:
Retired - water filtration supervisor
Family Members:
Vicki (Wife)
Chuck - son
Scott - son
Ella - grand daughter
McKinley - grand daughter
Hometown:
Chappells, SC
Favorite Outdoor Activity:
Deer & Hog hunting
Favorite Places to go:
Mountains Severville, TN
All-time Outdoor Highlight:
Shooting a 256 pound wild boar after chasing him for two years straight. Came across the field at 4:30 pm. The rest is history.
Best Fishing Memory:
Sitting on my neighbors dock with my two grand daughters teaching them to catch bait stealers. They love the cork going under.
Favorite Fishing Technique:
Floating worms to fish around docks and sea walls
Favorite Place to shop for Outdoor gear:
Bass Pro Shops and Academy
Favorite Equipment (Guns, Boats, Reels, Tents, Atvs, Clothing, etc.):
Using my Encore 7 mag and Parker crossbow to deer and hog hunt, and my bass tracker boat.
Favorite Wild Game Food:
Deer cube steak in crock pot
Item in First Aid Kit you use most:
Ibprofin and band aids
Person most responsible for cultivating your love for the outdoors:
Robert Watson got me back into hunting. We hunted together about 4 years before he was killed in an auto accident.
Favorite Scripture:
As iron sharpens iron, so one man sharpens another. Proverbs 27:17.
Any spiritual lessons you have learned on outdoor events:
I'm amazed at how God starts working during the meetings. The Holy Spirit begins to work in men's hearts and affects everyone in the group. It's amazing at how the men open up and share their hearts knowing that what's said here stays here and it's between them and God and no one else.