Michael Figgins Bio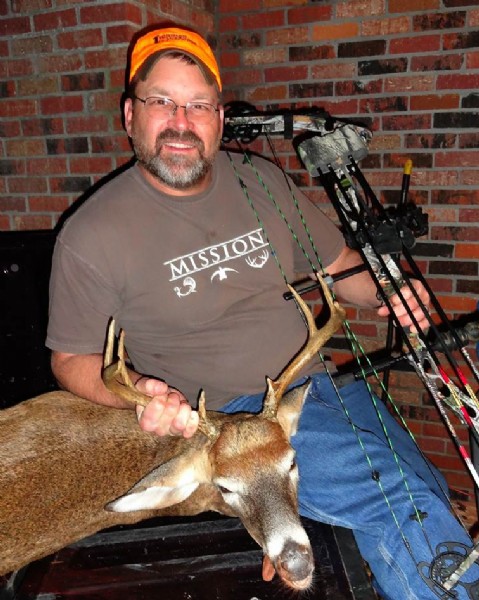 Occupation:
Retired United States Marine
Family Members:
Tracy (wife), Karelyn (daughter), Joey (son in-law), Ryan (Cpl. USMC), Matthew
Hometown:
Oswego, Illinois
Retired in Jacksonville, N.C.
Favorite Outdoor Activity:
Fishing/bow hunting
Favorite Places to go:
Alaska
All-time Outdoor Highlight:
28 day retirement trip to Alaska with my daughter, sitting in a blind with my daughter while she puts an arrow in the pump station of a 209 pound sow, and hearing a hog squeal when you whack him with an arrow.
Best Fishing Memory:
Hiking into a remote pond in Alaska with my daughter and catching lots of rainbows
Favorite Fishing Technique:
Catching anything on a fly rod
Favorite Place to shop for Outdoor gear:
Bass Pro Shops
Favorite Equipment (Guns, Boats, Reels, Tents, Atvs, Clothing, etc.):
Elite Energy 35 bow, Easton arrows, Spot Hog sights, Ruger SR9, Kershaw knives, Old Town canoes, all camouflage, and any fly rod.
Favorite Wild Game Food:
Fresh grilled rainbow trout and cheese grits
Item in First Aid Kit you use most:
Calamine lotion (poison ivy is my arch nemesis)
Person most responsible for cultivating your love for the outdoors:
My grandfather and father who taught me how to catch a fish
Favorite Scripture:
" Have I not commanded you? Be strong and courageous. do not be afraid; do not be discouraged, for the Lord your God will be with you wherever you go. Joshua 1:9
Jesus never leaves or forsakes us, my Friend even when I am hard to be one.
Any spiritual lessons you have learned on outdoor events:
God has a mighty call upon us men, we are not to do it without Him or the assistance of other God seeking and fearing men. We don't have to do this alone, iron sharpens iron!