Matthew Sickling BIO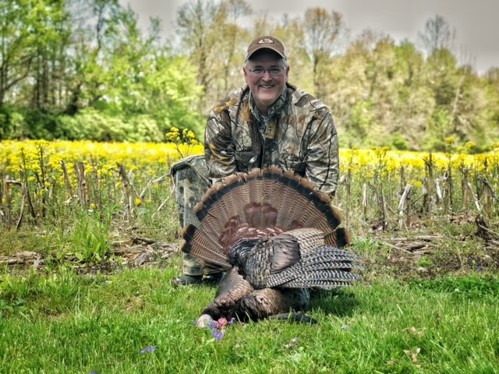 Occupation:
Baptist Minister
Family Members:
Mary Anne (Wife)
Leigh Ann
Lora
Leslie
Hometown:
Calvert City, Kentucky
Favorite Outdoor Activity:
Deer Hunting
Favorite Places to go:
Land Between The Lakes
All-time Outdoor Highlight:
Being with my daughter Leigh Ann when she harvested her first buck.
Best Fishing Memory:
When my wife Mary Anne and I were fishing with my parents on Barkley Lake and my wife caught a huge Crappie that weighed 2 pounds 15oz and she thought she was hung up. When the fish broke the surface of the water and I saw how big it was I almost jumped in after it.
Favorite Fishing Technique:
Jiggging for crappie in the spring.
Favorite Place to shop for Outdoor
Gander Mountain
Favorite Equipment (Guns, Boats, Reels, Tents, Atvs, Clothing, etc.):
My Marlin 30/30 rifle, Remington 870 pump, Bear Attitude Bow, Marlin lever action .22 that was my grandfather's
Favorite Wild Game Food:
Fried Deer steak or Fried Crappie
Item in First Aid Kit you use most:
Bandaids
Person most responsible for cultivating your love for the outdoors:
My father Oral Sickling who took me rabbit hunting, squirrel hunting and fishing as a child and introduced me to deer hunting as a young man. My Grandfather Andy Goins was also a big influence in my love of the outdoors. I enjoyed listing to my grandfather tell stories about his hunting adventures in Southern Illinois.
Favorite Scripture:
"They that wait upon the Lord shall renew their strength they shall mount up with wings like eagles, they shall run and not be weary, they shall walk and not faint." Isaiah 40:31
Any spiritual lessons you have learned on outdoor events:
While deer hunting as a teenage boy in Western Kentucky I walked out of the woods one night and looked up into the most beautiful night sky that I've ever seen. I immediately turned off my flashlight and began singing the following words, "Oh Lord My God when I in awesome wonder consider all the worlds thy hands have made, I see the stars, I hear the rolling thunder, thy power throughout the universe displayed. Then Sings my soul my Savior God To thee, How Great Thou Art, How Great Thou Art." The Lesson I learned some 35 years ago is that Jesus often went out into the wilderness or up on a mountain to be alone with God and renew His Strength. As a follower of Christ I figured if Jesus did it then so should I. Consequently some of my most amazing and meaningful worship expereinces have not occured in a crowded church auditorium or even in a stadium full of men. Instead some of my most memorable worship expereinces have occured when I am alone with God in His Great Outdoors.