Kyle Rozek Bio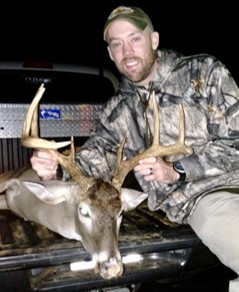 Occupation:
Account Manager at SYNNEX Corporation.

Family members:
Staci (Wife)
Max (Son)
Beck (Son)

Hometown:
Greenville, SC

Favorite outdoor activity:
Any kind of hunting, fishing, mountain biking, and camping

Favorite places to go:
Pisgah National Forest, Dupont State Forest, and anywhere with Mountains!

All-time Outdoor Highlight:
So far it was when I shot my first Duck at age 7 with my uncle and watching his lab Samson go fetch it up. Also, completing the Shenandoah 100 mile mountain bike race. My son Max is 5 now and I'm sure as soon as I can watch him take his first deer this will trump all things!

Best Fishing Memory:
My Dad taking me to pay lakes catching catfish all day.

Favorite Fishing Technique:
Texas rig with zoom trick worms.

Favorite place to shop for outdoor gear:
Cabelas, I'm convinced had they not built that store in Greenville I'd be a richer man.

Favorite equipment (guns, boats, reels, tents, ATVS, clothing, etc):
Browning A-Bolt 30-06, Elite Impulse Bow

Favorite Wild Game Food:
Venison stuff jalapeno poppers!

Item in first aid kit you use the most:
Alcohol swabs

Person most responsible for cultivating your love for the outdoors:
My uncle and Dad

Favorite scripture:
Romans 8:28
And we know that with all things God works for the good of those who love him, and who have been called according to his purpose!

Any spiritual lessons you have learned on outdoor events:
Sometimes if you just sit in silence in God's creation is when you hear Him the most.