John Ellison Bio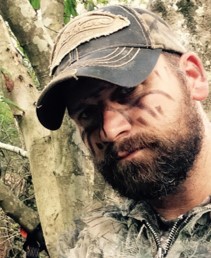 Occupation: Technical Projects Director - NewSpring Church
Family Members: (wife)Christie, (daughters)Sommer & Emilee, and (sons) Rylee & Grady
Hometown: Honea Path SC
Favorite Outdoor Activity: Elk Hunting
Favorite Places to go: Gila National Forest NM, Meigs County Ohio, & Cancun Mexico
All-time Outdoor Highlight: Being with my kids on their first whitetail harvests
Best Fishing Memory: Fishing for catfish on Santee with my Dad, Brother-in-law, my two sons, and my two nephews
Favorite Place to shop for Outdoor gear: Hunters Headquarters, Greenwood SC
Favorite Equipment (Guns, Boats, Reels, Tents, Atvs, Clothing, etc...): Mathews Bows, Browning Rifles, John Deere Gators, and Nomad Clothing
Favorite Wild Game Food: Elk tenderloin
Person most responsible for cultivating your love for the outdoors: Jackie and Deborah Gilmer were friends of our family and let me harvest my first deer from one of their stands. I've been hooked ever since.
Favorite Scripture: John 16:33
Any spiritual lessons you have learned on outdoor events: One of the best lessons I've learned occured at one of the manhood discussions on a doe and hog retreat this year. There was a common theme that was being discussed and one of the participants took the discussion in a whole different direction. He talked about some of the tragedy in his life and how he'd been angry with God. In my mind I was wondering, "Where is he going with this, this seems kinda off topic." He told of how coming to an Ironman retreat had led him back into a loving relationship with his Heavenly Father. When he finished speaking, one of the guys who had been very quiet, begin to speak up and talk about how he had struggled with being angry at God also. In that moment, the Holy Spirit whispered to me gently, "See, I know what I'm doing. I always have a plan." He reminded me of Jeremiah 29:11
11 For I know the plans I have for you," declares the Lord, "plans to prosper you and not to harm you, plans to give you hope and a future.
The key word being "I". His plans are always better than our plans.