Joel Medley Bio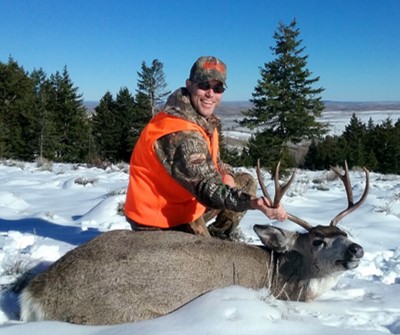 Occupation:
Education Administrator
Family Members:
Erin (wife)
Brandt, Campbell, and Braxton (children)
Hometown:
Raleigh, NC
Favorite Outdoor Activity:
Shooting my bow with my kids
Favorite Places to go:
Anywhere with mountains
All-time Outdoor Highlight:
Literally running downriver chasing a hooked steelhead in full view of Mount St. Helens. Being 6' 4' tall and weighing in at more than 200 pounds, nimbleness is not my gift. The experience was amazing due to the constant stop-and-go action -- crisscrossing a river multiple times, climbing over rocks, ducking under overhanging branches, thinking the chase was finished only to have the fish dart off again, traversing downed logs, searching for a beaching point, and having your line snap just as you reach to get the fish.
Best Fishing Memory:
My dad and I were fishing from a borrowed canoe and caught quite a few sizeable large-mouthed bass. As it was getting close to dark, we headed toward the ramp just a slight muddy rise out of the water. We paddled hard, gained speed, landed the canoe, and then the fun began. I hoped out of the canoe and grabbed the canoe to give it a jerk on land. Well, as I was pulling the canoe ashore, my father was standing up. Needless to say, he went overboard with both fishing poles and the tackle box. We still chuckle about the incident to this day.
Favorite Fishing Technique:
Running a Booyah buzz-bait at dusk over submerged vegetation
Favorite Place to shop for Outdoor gear:
Bass Pro Shop
Favorite Equipment (Guns, Boats, Reels, Tents, Atvs, Clothing, etc.):
T/C Omega Z5 muzzle-loader
Hoyt bow
SIG SAUER SP2022 pistol
Weatherby .270 – Vanguard Series 2 Sporter (Mule Deer Edition)
Favorite Wild Game Food:
Cubed venison marinated in Sriracha-infused Italian dressing
Item in First Aid Kit you use most:
Band-aids (or duct tape - if you've forgotten to replace your band-aids!)
Person most responsible for cultivating your love for the outdoors:
A friend and brother in Christ named Bryan Allison awakened my dormant passion for the outdoors. He has he taught me to fly fish, served as a sounding board for ideas, and showed me the free resource of topographical maps from the USGS. He freely shares his experiences and is one of the most unselfish people I've ever met. He believes that hunting is about sharing the experience, and beauty of God's creation, with others. He discovered my dream of archery hunting elk, and he worked to make that happen in Washington (along with fishing for steelhead and blasting some forest grouse). He has relocated to Montana, sent me regular pictures of his outdoor paradise, and finally helped me plan my first trip to this state. The picture above is of the mule deer that we stalked together and I dropped at 330 yards.
Favorite Scripture:
Matthew 5:16 "Let your light so shine before men that they may see your good works and glorify your Father in heaven."
Any spiritual lessons you have learned on outdoor events:
In hunting, you have the privilege to watch the world wake up. Those beautiful sunrises showcase the master craftsmanship of our Creator God. If He can take nothing and make such beautiful scenery in our physical world, then I have hope in knowing that He can do the same in my spiritual life. He has a purpose and a plan for my life, so I need to follow the teaching of Psalm 37:7 - "be still before the Lord and wait patiently for Him."