Jeff Toussaint Bio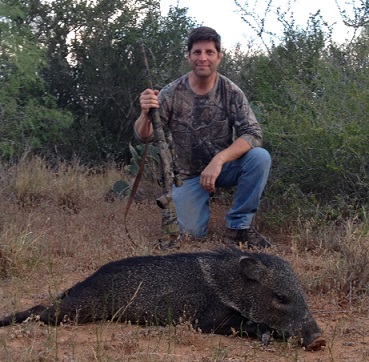 Self Employed
Lifesaver Machine Services
Family Members:
Connie (wife)
Cameron (son 15 yrs old)
Jenna (Daughter 10 years old)

Hometown:
Plano, Texas (out side Dallas)

Favorite Outdoor Activity:
Hog hunting and deer hunting. I have found these last couple years I enjoy watching someone take their first animal (deer, hog, dove etc.) more than I enjoy taking one myself.

Favorite Places to go:
Central Texas area

All-time Outdoor Highlight:
Shooting a BIG 8 point buck on my Uncles place while wearing jeans a red golf shirt and tennis shoes, the best part was my brother in law had been trying to get him for several weeks and he was wearing full camo scentlock, and using all the tricks in the book.
Best Fishing Memory:
While backing into lake Buchanan to go striper fishing I heard my brother in law (same as above) yelling at me, when I looked back all I could see was fishing boiling on the surface right behind the boat. I backed up slammed the brakes to launch the boat and parked it in record time. We spent the rest of the morning following that school and bringing in some really nice fish.
Favorite Fishing Technique:
Top water for stripers

Favorite Place to shop for Outdoor gear:
Cabalas (They just built one 10 minutes from my house)
Favorite Equipment (Guns, Boats, Reels, Tents, Atvs, Clothing, etc...):
My completely rebuilt Starcraft boat (not fancy but its paid for and I did it all myself) My Remington 700 BDL .270, and old savage .22 bolt action, and a side by side 16 ga. shotgun with a hand made Damascus barrel handed down from my great grandfather.
Favorite Wild Game Food:
fried catfish or my dads fried venison back strap

Item in First Aid Kit you use most:
gotta be duck tape

Person most responsible for cultivating your love for the outdoors:
My dad

Favorite Scripture:
1 Corinthians 10:13
No temptation has overtaken you except what is common to mankind. And God is faithful; he will not let you be tempted beyond what you can bear. But when you are tempted, he will also provide a way out so that you can endure it.

Any spiritual lessons you have learned on outdoor events:
Being in the outdoors, in the quiet of a deer blind or early mornings by a still lake always reminds me of how awesome God is. I also have learned (through the Ironman retreats) that there are men out there struggling (by themselves) with things they can't talk to anyone about, that makes them so vulnerable, having someone to say hey "I am right there with you I struggle with that also" is an amazing feeling and it seems like a weight is lifted off your shoulders and you can help each other (two are always stronger than one)