J Lewis Bio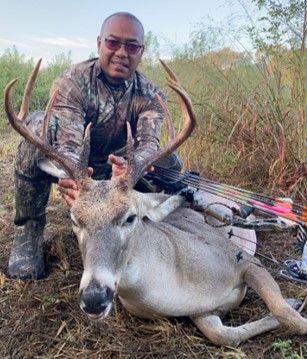 Occupation: Alpha Home Inspectons 
Family members:(Wife)Tricia. (Daughters)Jayleigh mother of 2 boys and (college student) Jadyn
Hometown: Willow Park, TX 
Favorite outdoor activity: Hunting 
Favorite places to go: Cabela's, Home Depot, Reed Family Ranch
All-time Outdoor Highlight: Watching my daughter shoot and track her first dear
Best Fishing Memory: Catching Several largemouth bass while a group of 15 hogs passed behind me at 12 feet. I didn't shoot because the fishing was way to good.
Favorite Fishing Technique: straightlining a 4" ring fry 
Favorite place to shop for outdoor gear: Academy
Favorite equipment (guns, boats, reels, tents, ATVS, clothing, etc): Favorite rifle-Winchester 7mm Mag, BowTech bow, and HECS suit 
Favorite Wild Game Food: Deer, Jalepeno & cheese grilling sausage 
Item in first aid kit you use the most: bandages 
Person most responsible for cultivating your love for the outdoors: my Uncle Lee
Favorite scripture: Jeremiah 29:11
Any spiritual lessons you have learned on outdoor events:
God could have just created the outdoors for Him but He cares so much more about us than we can even fathom.  The details He put into even the smallest nutrient in the soil to the instincts of a mature whitetail buck are for us. We can just look at it from our windows or we can jump in the middle of it and explore, learn, and pass it on. Just as God orchestrated the events in our lives. We can watch it go by or we can choose to enjoy every minute of it and pass on what we learned along the way.  
God also shows me that wonderful and amazing things will happen, when you sit still long enough to listen to Him.
I am at peace when surrounded by only His creation.