Dustin_Grutzik_Bio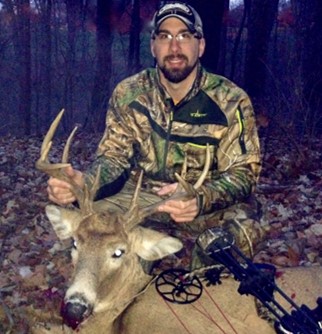 Occupation:
Business Manager
Family Members:
Jennifer (Wife)
Levi
Elena
Lincoln

Hometown:
Athens, AL (transplanted from WI)
Favorite Outdoor Activity:
Bow Hunting
Favorite Places to go:
My farm in Wisconsin
All-time Outdoor Highlight:
Being 50 yards from a 10' Grizzly on Kodiak island with a salmon on a fly line
Best Hunting Memory:
Finally getting to go out hunting with my Dad when I turned 5 and trudging through the snow.
Favorite Hunting Technique:
Trying to outsmart a buck
Favorite Place to shop for Outdoor gear:
My local Archery Shop
Favorite Equipment (Guns, Boats, Reels, Tents, Atvs, Clothing, etc.):
My Matthews Bow and Yamaha Grizzly
Favorite Wild Game Food:
Back straps
Item in First Aid Kit you use most:
Ibuprofen
Person most responsible for cultivating your love for the outdoors:
Collectively My Dad, Brother, Uncles, Grandpa, and extended family. Hunting was a time of the year that brought us all together.
Favorite Scripture:
The world and its desires pass away, but whoever does the will of God lives forever 1 John 2:17
Any spiritual lessons you have learned on outdoor events:
In the words of Fred Bear, When a hunter is in a treestand with moral values and with the proper hunting ethics and richer for the experience, that hunter is 20 feet closer to God.