Daniel McKee Bio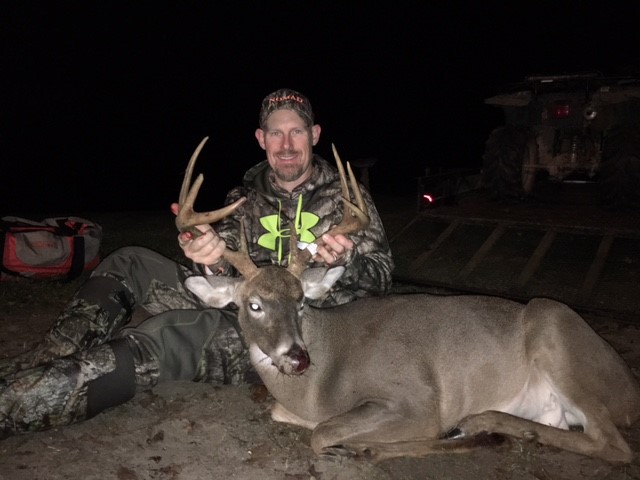 Occupation: Maintenance Planner

Family members: Wife and two kids. (Wife: Amy, Son: Levi, Daughter: Emily)

Hometown: Honea Path, SC
Favorite outdoor activity: Whitetail Hunting
Favorite places to go: Mountains or Beach with the family. Hunting in different states.
All-time Outdoor Highlight: I've had several. But one that stands out right now. I was hunting a specific buck, had him within 12 yds during bow season but couldn't seal the deal. Was able to take him in rifle season (still in bow range). Just the number of trail cam pics I had of him and the way he tore my nerves up in bow season. Not the biggest buck to date, but definitely one to remember.
Best Fishing Memory: Ended up fishing a small club tournament a few years back by myself. I got a spot and caught fish all day long on this one spot. I was able to upgrade several times throughout the day. I had to leave fish that were still biting and rush back to weigh in. The Lord just blessed me that day! Didn't win the tournament, I think 2nd place, but this is one fishing trip I will never forget. Was praising God all day!!
Favorite Fishing Technique: Top Water
Favorite place to shop for outdoor gear: Academy Sports or wherever has the best deals.
Favorite equipment (guns, boats, reels, tents, ATVS, clothing, etc): Bow: PSE-Dream SeasonUF, Rifle: Remington 700 camo stock/stainless receiver and barrel chambered in 270. Nomad hunting clothing has become one of my favorites. Yamaha Big Bear 400 (currently) also Battery Golf Cart (for the sneak attack. LOL) Triton Bass Boat, Different variety of reels and rods.
Favorite Wild Game Food: Venison
Item in first aid kit you use the most: Band-Aid
Person most responsible for cultivating your love for the outdoors: My Dad.
Favorite scripture: 2 Cor. 5:17 Therefore if anyone is in Christ, he is a new creation; old things have passed away; behold, all things have bcome new.
Any spiritual lessons you have learned on outdoor events: I always find that as I sit in the outdoors and just experience Gods wonderful creation come to life each morning it reminds me of the fresh start we have in the Lord. No matter what circumstances I am faced with God's Grace is greater and I can be renewed in Him.