Clinton Ashby BIO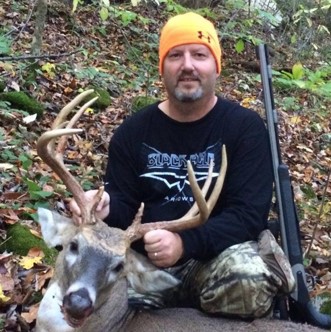 Occupation: Director, Business Development and Network Solutions for Envistacom LLC a privately held company out of Atlanta, GA.
Family members:
Wife: Dana L Ashby
Son: Brandon Ashby
Daughters: Andrea & Lea
Hometown: Auburn, Ky
Favorite outdoor activity: Annual trip to Maine guiding Black Bear hunters, riding ATV trails, smallmouth bass fishing, and gorging on fresh off the boat "lobstah".
Favorite places to go: Maine and Camping anywhere.
All-time Outdoor Highlight: There are several that come to mind, but Moose hunting in Maine with my daughter Andrea when she was 13 years old is a very fond memory for me. We bagged a nice bull moose and had a fantastic time.
Best Fishing Memory: Fishing with my Dad in Kentucky one summer evening when I was home from the Navy. We put in the lake at dark and fished all night long arriving back at the boat ramp at daylight. We caught well over 100 fish on top water and talked about my Navy career and his times in the Navy. We shared some wonderful memories together that night.
Favorite Fishing Technique: Carolina Rigged Worm, top water with Tiny Torpedo or jerk bait.
Favorite place to shop for outdoor gear: Swamp Hollow Archery & Outfitters (My own business)
Favorite equipment (guns, boats, reels, tents, ATVS, clothing, etc): My hunting gear tool box primary weapons of choice include: Remington 700BDL 7MM Mag or my TC 25-06 for rifle hunting, 870 Super Mag for Turkey hunting with Federal Premium Heavyweight #7 for bone smashing results, BOWTECH for archery using Victory TKO arrows tipped with either Shwacker or Magnus Broadheads, Irish Setter for Boots, Millenium Tree stands, Kawasaki Mule Side by Side for overall work/play/hunt, Honda ATV's, Buck Knives, covert scouting cameras, Sweet Rack 18 for Deer Supplement, Nikon rangefinders, and a RAM Truck with Cummings 6.7 Diesel to get me there.
Favorite Wild Game Food: Grilled Grouse, Quail, and Dove are favorites.
Item in first aid kit you use the most: tape… seems I always need to tape a finger up due to cuts.
Person most responsible for cultivating your love for the outdoors: My Dad got me started fishing and hunting but my Grandmother inspired me to camp and enjoy being outside. She taught me to pack and carry only the essentials and to multi-purpose items way before the multi-purpose tool was invented.
Favorite scripture: Psalms 1: 1-3 as I believe Psalms chapter 1 has about all the advice that a Christian needs to live by into a few versus.
Any spiritual lessons you have learned on outdoor events: To be successful as a hunter you must be very intentional about your preparation and how you approach the hunt. The same applies in my Christian walk because if I am to be consistent in my walk and about God's plan for my life then I must be intentional in my actions and approach to everything I do from attending worship, prayer, studying God's Word and telling others about Christ.