Chad Boyd BIO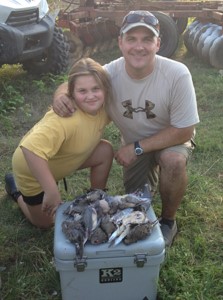 Occupation:
I/E Maintenance and Reliability Instructor
Family Members:
Nicole (Wife)
Bethany
Addisyn
Hometown:
Angie, La
Favorite Outdoor Activity:
Fishing and Hunting
Favorite Places to go:
Delacroix, La for Fishing
Mid West for Hunting
All-time Outdoor Highlight:
Being with my 70 year old grandfather when he killed his first deer.
Best Fishing Memory:
Catching my daughters first fish and seeing that smile.
Favorite Fishing Technique:
Sight fishing for Redfish in clean water.
Favorite Place to shop for Outdoor gear:
Any local shop.
Favorite Equipment (Guns, Boats, Reels, Tents, Atvs, Clothing, etc.):
Casting reel with a 7.5â?? rod, Bay Boat, Mathews Bow, Millennium Tree stand, Benelli Shotgun
Favorite Wild Game Food:
Crappie
Item in First Aid Kit you use most:
Ibuprofen
Person most responsible for cultivating your love for the outdoors:
My uncle and cousins started taking me when I was very young.
Favorite Scripture:
I can do everything through him who gives me strength. Phil 4:13 There are so many opportunities in our lives to give up, but if we will lean on him, he will carry us through.
Any spiritual lessons you have learned on outdoor events:
We take a lot of things for granted and the greatest gifts cannot be purchased.