Casey Shiver Bio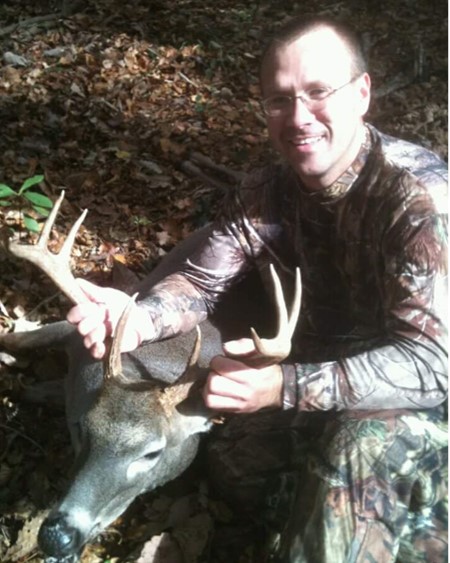 Occupation:
Master Sergeant/Team Supervisor @ AL ARNG

Family members:
Julie(wife) Vanessa(daughter

Hometown:
Andalusia, Al

Favorite outdoor activity:
deer/hog hunting

Favorite places to go:
Auburn University ball games

All-time Outdoor Highlight:
My daughter killing her first buck on Jan 3, 2016

Best Fishing Memory:
Bream fishing when I was 14 y/o. A large mouth bass broke my line, and I could see the cork swimming all over the pond. I took a spinner bait, and continued casting until I tangled up the line in the spinner blades. Bass weighed over 6 lbs.

Favorite Fishing Technique:
cat fishing with pool noodles

Favorite place to shop for outdoor gear:
Academy Sports

Favorite equipment (guns, boats, reels, tents, ATVS, clothing, etc):
my T/C .270 and my Bowtech Invasion

Favorite Wild Game Food:
wild hog

Item in first aid kit you use the most:
triple antibiotic ointment

Person most responsible for cultivating your love for the outdoors:
Eddie Edson (brother-in-law)

Favorite scripture:
Psalms 144:1-2

Any spiritual lessons you have learned on outdoor events:
I often read my Sunday School lesson or A Look at Life from a Deer Stand devotional while hunting. Also, I find the many wonders you are able to experience being in God's creation, and seeing/hearing it wake up truly amazing.