Carmen Pavone Bio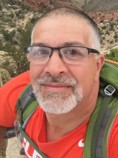 Occupation: Route Manager/Sales NJ, East
Family members: Spouse- Mayra Fajardo, Son Zachary Pavone, Daughter Natalie Pavone, Step Son William Paruta, Step Daughter Maggie Paruta, Family Dog Matty. I do not normally refer the kids as step children.
Hometown: Fairfield NJ
Favorite outdoor activity: Hunting, Fishing salt and fresh water, Hiking, cycling, riding my 2003 Road King Classic when I had it.
Favorite places to go: Grand Canyon, Fishing around the Hook of Sandy Hook, My hunting club in the Great Big Piece Meadows and anywhere away with my Wife when its just the two of us!
All-time Outdoor Highlight: My son Zachary shot his first deer at 10 years old.
Best Fishing Memory: Striper fishing with my older brother Robert, we fished sun up to sun down out on my boat till it ran out of gas. We slaughtered um that day we also reconnected as brothers God was with us that day for sure!
Favorite Fishing Technique: Top water poppers and gigging for Fluke.
Favorite place to shop for outdoor gear: Meltzer's sporting goods when it was open. Bass Pro/Cabela's
Favorite equipment (guns, boats, reels, tents, ATVS, clothing, etc.): Quest compound bow, Ravin R10 cross bow, My 2 Henry lever guns, 357 and 45-70, Thomson Center 50cal MZL. 2016 226 Sea Fox center console fishing boat, Saint Croix Rods, Accurate reels, Polaris 570 sportsman, Cabela's super slam hunting cloths,
Favorite Wild Game Food: Venison, Wild Boar, Pheasant.
Item in first aid kit you use the most: Band aids, gauze, tape and tweezers
Person most responsible for cultivating your love for the outdoors: Father fishing and older brother hunting.
Favorite scripture: Ephesians verse 2: 8-10, Psalm verse 51: 10-12.
Any spiritual lessons you have learned on outdoor events: That church/worship is not a just for Sunday gatherings in a building.