Brad Savage Bio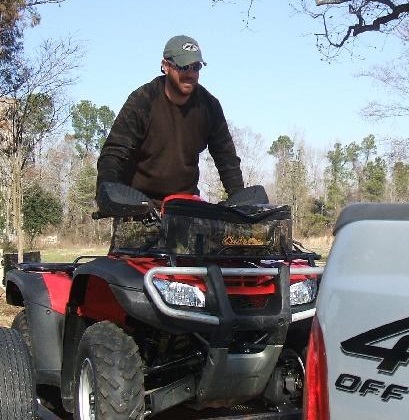 Vice President of Savage Motor Co.,Inc.

Family Members:
Kristy(wife)
Brady
Macie Grace


Hometown:
Simpsonville, SC

Favorite Outdoor Activity:
Offshore fishing, crappie fishing, deer hunting

Favorite Places to go:
Murrells Inlet, SC

All-time Outdoor Highlight:
My 3 year old, Brady, seeing his first deer in a deer stand while he was playing with matchbox cars!

Best Fishing Memory:
We were anchored over an offshore reef on a cold November morning in less than favorable conditions but our dedication paid off, we caught Black Sea Bass as fast as we could reel them in for three hours. It was a once in a lifetime fishing trip with family.

Favorite Fishing technique:
Trolling ballyhoo for Dolphin and Sailfish



Favorite Place to shop for Outdoor gear:
Bass Pro Shops.

Favorite Equipment (Guns, Boats, Reels, Tents, Atvs, Clothing, etc...):
My Browning .270 BAR and my War Eagle fishing machine!

Favorite Wild Game Food:
Grilled Mahi Mahi, and smoked venison tenderloin

Item in First Aid Kit you use most:
Band aids, anyone who knows me knows I have an issue with knives!

Person most responsible for cultivating your love for the outdoors:
Without a doubt my dad. My dad started taking me to his hunting club on Lake Greenwood when I was very young. My dad was always willing to take off to the woods or lake whenever I wanted to go. I now realize how important those times were and I hope to make the same memories with my children.

Favorite Scripture:
In the same way, faith by itself, if it is not accompanied by action, is dead. (James 2:17 NIV84)

Any spiritual lessons you have learned on outdoor events:
I have found that the further I can get away from the daily grind, whether in a deer stand alone or 40 miles offshore, the better I can hear God speak to me. God's great outdoors is the best place to leave all the things behind that bind us in day to day life.