Bill Meriwether Bio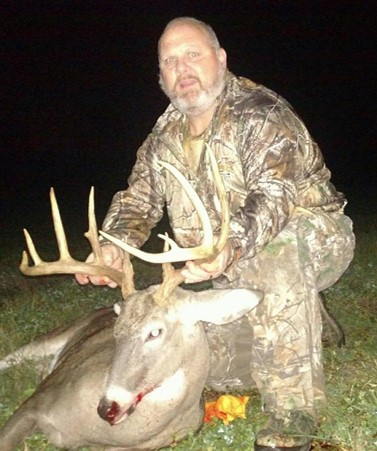 Occupation:
Industrial Sales
Family Members:
Teresa (Wife)
Courtney Martin (Daughter)
Zac Martin (Son in law)
Rebecca Hope Martin (Granddaughter)
Curtis (Son)
Camilla (Daughter in law)
Leah Barker (Granddaughter)
Noah Barker (Grandson)
Hometown:
Belpre, OH.
Favorite Outdoor Activity:
Bow Hunting Whitetail Deer
Favorite Places to go:
Anywhere in SE Ohio with a bow
All-time Outdoor Highlight:
First whitetail with a bow at the age of 43. It was a little, and I mean little doe but she was a trophy to me!
Best Fishing Memory:
Catching an almost 2 lb. Crappie in a local farm pond with nightcrawler.
Favorite Fishing Technique:
Farm pond bass fishing with jitterbug
Favorite Place to shop for Outdoor gear:
Any privately owned bow shop
Favorite Equipment (Guns, Boats, Reels, Tents, Atvs, Clothing, etc.):
Bowtech Invasion CPX
Favorite Wild Game Food:
Moose summer sausage
Item in First Aid Kit you use most:
Advil. The old back isn't what it used to be.
Person most responsible for cultivating your love for the outdoors:
It was because of my son's love for bow hunting as a teenager that I decided to try it. Thanks Curtis!
Favorite Scripture:
If we confess our sins, he is faithful and just to forgive us our sins, and to cleanse us from all unrighteousness. 1 John 1:9
Any spiritual lessons you have learned on outdoor events:
No matter the result of the hunt, God is worthy of our praise!