Alan Wolf Bio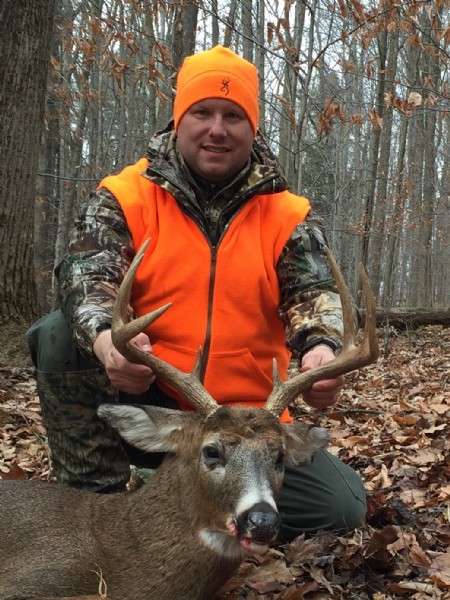 Occupation:
Environmental Compliance Specialist (Oil & Gas Industry)
Family members:
Alisha (wife), Averi (daughter), Ryker (son)
Hometown:
Conneautville, PA
Favorite outdoor activity:
Hunting, fishing, camping, hiking, or rather anything that involves the outdoors whether it's for work or play
Favorite places to go:
Locally: Allegheny National Forest or just in the woods.
Out of State: Colorado, Wyoming, Alaska.....
All-time Outdoor Highlight:
Taking my two children with me on an early season doe muzzleloader hunt in a ground blind. After harvesting a doe and having my kids help with tracking, field dressing and dragging it out after dark was priceless to say the least. I'll never forget it and look forward for more time spent in the woods with my kids.

Best Fishing Memory:
Every time I take my kids fishing at our farm pond and trout fishing on the various trout streams
Favorite Fishing Technique:
Stream fishing
Favorite place to shop for outdoor gear:
Cabela's with the use of "Cabela's Bucks"
Favorite equipment (guns, boats, reels, tents, ATVS, clothing, etc):
TC Encore 7mm08 / .50cal muzzleloader, Havalon Knives
Favorite Wild Game Food:
Venison backstraps and my homemade venison smoked jalapeno summer sausage
Item in first aid kit you use the most:
Ibuprofen
Person most responsible for cultivating your love for the outdoors:
My father, as we spent many hours outdoors in the woods hunting, camping, fishing, cutting wood, and farming as we grew up in the country.
Favorite scripture:
"For since the creation of the world God's invisible qualities, His eternal power and divine nature -have been clearly seen, being understood from what has been made, so that people are without excuse."
Romans 1:20
Any spiritual lessons you have learned on outdoor events:
God has created a vast of wilderness, that is extremely unique and beautiful for us to explore and to enjoy, that we may glorify His name above all else....