Adam Terry Bio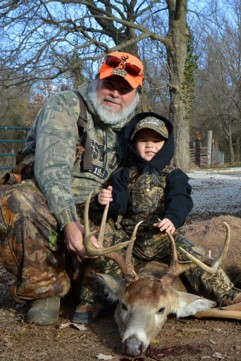 Occupation:
Machinist at GE Energy
Family:
Wife (Jessica)
Son: (John)
Hometown:
Lowndesville, SC
Favorite outdoor activities:
Hunting and Fishing
Favorite Place to go:
Road trips with my family
All-time favorite outdoor highlight:
2013 Missouri hunting trip at Pro Outfitters. I killed my Biggest Buck, my Brother-in-law killed his biggest buck and my best friend killed his biggest buck but most important it was the last hunting trip I got to spend with my Hero..My Dad!
Best Fishing Memory:
March 20, 2010 Fishing a bass tournament on Clark Hill with my Dad when he caught a Flathead Carfish on a spinnerbait that bottomed out the 50lb scales.
Favorite Fishing Technique:
Fishing a football jig around blowdowns in early spring
Favorite Place To Shop For Outdoor Gear:
Cabelas
Favorite Equipment:
My Skeeter Bassboat, Team Diawa reels and My Browning A-bolt 300 Win Mag
Favorite Wild Game Food:
Bacon wrapped backstraps
Item In Your First Aid Kit You Use Most:
Super Glue or Duct Tape
Person Most Responsible For Cultivating Your Love For The Outdoors:
My Dad, he always took me Hunting and Fishing with him
Favorite Scripture:
Romans 8:28
"And we know that All things work together for hood to them that love God, to them who are the called according to His purpose"
Any Spiritual Lesson You Learned On Outdoor Events:
The Outdoors is the best place to pray and talk to God and to listen to him speak to you.