Nathan Ward Bio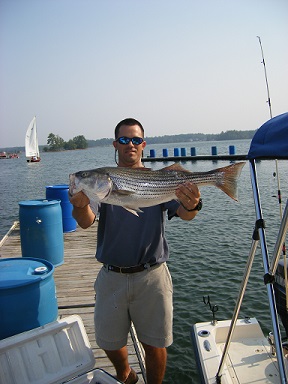 Civil Engineer

Family Members:
Rebecca (Wife)
Natalie

Hometown:
Charleston, SC

Favorite Outdoor Activity:
Striper Fishing

Favorite Places to go:
Cape Hatteras, NC

All-time Outdoor Highlight:
Catching a cooler (48 quarts) of shrimp in less than 2 passes of the poles.

Best Fishing Memory:
Pulling out of the boat landing one Saturday morning and checking the depth finder to find a school of stripers under the boat. I caught over 18 stripers that morning. Every time that I would drop a herring down, I would be reeling a fish up.

Favorite Fishing Technique:
Trolling with freelines and planer boards for Stripers.

Favorite Place to shop for Outdoor gear:
Bass Pro Shops.

Favorite Equipment (Guns, Boats, Reels, Tents, Atvs, Clothing, etc.):
My Abu Garcia 6500 reels and of course my Key West center console fishing machine.

Favorite Wild Game Food:
Grilled Stripers.

Item in First Aid Kit you use most:
Advil.

Person most responsible for cultivating your love for the outdoors:
With much hesitation, I must say Patrick Tyndall. Patrick turned me onto Striper fishing on Lake Murray about four years ago and the rest is history.

Favorite Scripture:
As iron sharpens iron, so one man sharpens another. Proverbs 27:17. There is so much truth in that scripture.

Any spiritual lessons you have learned on outdoor events:
God can work in all kind of ways, so always be prepared. It's awesome for me to watch God work on the hearts of men during the retreats. Sometimes it is in group settings, sometimes one on one and sometimes it can be months after a retreat.