Todd Steen Bio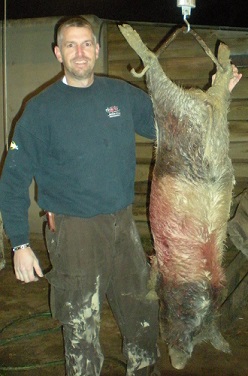 Occupation:
Founder of Variable Marketing
Marketing Services, Consultation, & Sponsorship Management

Family Members:
Pam(Wife)
Raegan A.
Trey A.
& Marshal the greatest "mutt" in the world

Hometown:
Hartsville, SC

Favorite Outdoor Activity:
Deer Hunting

Favorite Places to go:
Baja Mexico, Grand Canyon, & Any part of the Appalachian Mountain Range
All-time Outdoor Highlight:
My first deer Thanksgiving day - 1986

Worst Outdoor Adventure:
Parasailing in the Bahamas and getting tangled-up in the ropes at lift-off
(May classify as most hysterical outdoor adventure too)

Best Fishing Memory:
Farm-pond fishing for "chest-bream" with my grand-dad.
Chest-bream?
They're the bream too big to hold with one hand so you press them against your chest for support while removing the hook.
Going home with a dirty shirt meant it was a GREAT day fishing.

Best Hunting Memory:
Seeing my "Little Brother" through Big Brothers/Big Sisters take his first deer.

Favorite Hunting Technique:
Practicing enough with my rifle to feel confident in any situation

Favorite Fishing Technique:
Using the words, "I'll pay for the gas" so my friends will take me fishing.
(I'm currently without a boat)

Favorite Place to shop for Outdoor gear:
Any place having an "end-of-season" sale.

Favorite Equipment (Guns, Boats, Reels, Tents, Atvs, Clothing, etc.):
My hunting backpack - Cushion, Scent, Coat, Grunt Call, H20, Food, etc. . .
I don't know why I waited 37 years to start using one.

Favorite Wild Game Food:
Deer Stew . . .from the crock pot.
Started making it in college to save on grocery bills.

Item in First Aid Kit you use most:
Black electrical tape.
Sticks when other adhesive bandages won't!

Person most responsible for cultivating your love for the outdoors:
Grand Dad.

Outdoor Hero:
President Theodore Roosevelt for starting the National Wildlife Refuge system

Favorite Scripture:
Proverbs 16:3
Commit to the Lord whatever you do, and your plans will succeed.
Any spiritual lessons you have learned on outdoor events:
Bumper sticker in Moab, UT - "Jesus Forgives, Rocks Don't."