Chuck Williams Bio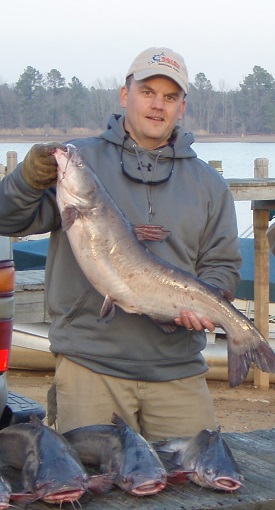 Occupation:
Sales
Family Members:
Ashlie (Wife)
Laura-Kate
Blaine
Hometown:
Evans, GA
Favorite Outdoor Activity:
Fishing
Favorite Places to go:
South Carolina Lowcountry
All-time Outdoor Highlight:
Seeing my kid's catch their first fish
Worst Outdoor Adventure:
Falling out of the boat in 30 degree weather while attempting to retrieve a
2 dollar lure from a willow tree
Best Fishing Memory:
Filling a cooler with Shellcracker during one of the worst thunderstorms that has ever hit Evans, Ga (and not caring about the weather at all).
Best Hunting Memory:
Growing up quail hunting in Burke county GA with my dad and Robert Bargeron
Favorite Hunting Technique:
Walking behind 3 bird-dogs that don't know what quit means
Favorite Fishing Technique:
Making a spook bait dance as the sun is going down
Favorite Place to shop for Outdoor gear:
Cabelas online
Favorite Equipment (Guns, Boats, Reels, Tents, Atvs, Clothing, etc.):
Abu reels, Ugly Sticks, Beretta 12 ga.
Favorite Wild Game Food:
Mahi with a side of grits
Item in First Aid Kit you use most:
Band-aids
Person most responsible for cultivating your love for the outdoors:
My Dad
Outdoor Hero:
Patrick Tyndall (the only person that I know who has carried a climber, a video camera, a gun and a bow up a tree and still managed to kill a deer and get it on film)
Favorite Scripture:
Be anxious for nothing, but in everything through prayer and petition, put your requests before God and the peace of God which transcends all understanding, will guard your hearts and your minds forever in Christ Jesus (Phillipians 4: 6,7)
Any spiritual lessons you have learned on outdoor events:
Stop and be still
Patience
He created it all for us to enjoy