Ray Thomas bio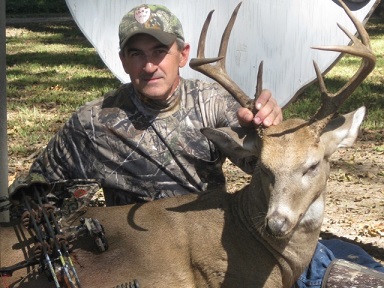 Millwright

Family Members:
Dana (wife)
Jessica (daughter)
Grandchildren: Khloe, Addie, and Rawls
Hometown:
Bogalusa, La.
Favorite Outdoor Activity:
Bowhunting and Fishing
Favorite Places to go:


Anywhere in the Midwest for hunting and the marshes of Southern Louisiana for fishing.

All-time Outdoor Highlight:
Sitting next to both my son and daughter as they harvested their first deer. My hope is to be able to do this with my grandchildren as well.

Best Hunting Memory:
Hunting with my son, and after 25 years, we were able to both harvest a deer within 30 minutes of each other. Afterwards taking my grandson with us to retrieve them. Neither of these were the largest deer either of us had ever killed but we had never doubled before, this was an awesome experience.

Favorite HuntingTechnique:
Hunting from hang on stands near travel corridors and feeding areas. For fishing, sight fishing for redfish.

Favorite Place to shop for Outdoor gear:
Any locally owned outdoor store

Favorite Equipment (Guns, Boats, Reels, Tents, Atvs, Clothing, etc...):
My Mathews Bow

Favorite Wild Game Food:
Deep fried backstrap

Item in First Aid Kit you use most:
bandaids

Person most responsible for cultivating your love for the outdoors:
My dad instilled in me at an early age the love of hunting and fishing. I've passed this on to my children and look forward to doing so with their children one day as well.

Favorite Scripture:
Now Faith is the substance of things hoped for and the evidence of things not seen. Heb. 11:1

Any spiritual lessons you have learned on outdoor events:
The greatest lesson to me has been that no matter what guys believe, we're all fight the same battles. Coming together with other guys and recognizing this only helps to strengthen us as godly men.