Chris Adkison Bio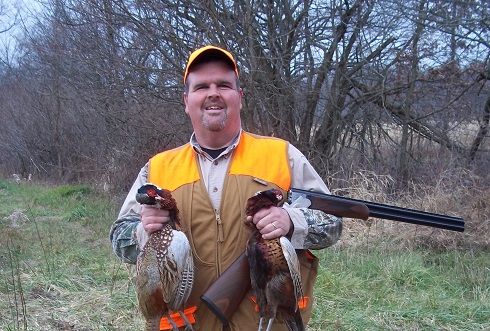 Engineering Manager, Thermal Ceramics, Inc.

Family Members:
Sara (wife)
Luke (21)
Jake (14)

Hometown:
Bath, SC

Favorite Outdoor Activity:
Fishing - Any kind of fishing

Favorite Places to go:
Oconee State Park above Walhalla, SC
Edisto Beach, SC

All-time Outdoor Highlight:
My first pheasant hunting trip taken with my son and a mutual friend. It was my first time hunting in over 18 years and we had a blast.

Best Fishing Memory:
My first walleye. I was on Trout Lake with a great group of Christian Men. I caught plenty of walleye including one that was 25½" long. It was my first fly-in with these guys but it wasn't my last. A lot of good friendships were made on that trip.

Favorite Fishing Technique:
A toss-up between fishing a Senko wacky style for bass or popping bugs for bream (that's bluegill for those of y'all from a little further north).

Favorite Place to shop for Outdoor gear:
Bass Pro Shops.

Favorite Equipment (Guns, Boats, Reels, Tents, Atvs, Clothing, etc...):
My CVA Accura Muzzleloader, Gamehide Camo, Pflueger President Reels, Columbia Cougar Flats II Tent

Favorite Wild Game Food:
Fresh killed deer back strap rolled in flour and fried for breakfast - a perfect ending to a morning hunt.

Item in First Aid Kit you use most:
Ibuprofen - getting old stinks.

Person most responsible for cultivating your love for the outdoors:
My wife and oldest son - it's a cool story ask me about it sometimes.

Favorite Scripture:
"For I know the plans I have for you," says the LORD, "plans to prosper you and not to harm you, plans to give you hope and a future. Then you will call upon me and come and pray to me, and I will listen to you. You will seek me and find me when you seek me with all your heart. I will be found by you," declares the LORD. Jeremiah 29:27
He must become greater; I must become less. John 3:30
I looked for a man among them who would build up the wall and stand before me in the gap on behalf of the land so I would not have to destroy it, but I found none. (emphasis added) Ezekiel 22:30

Any spiritual lessons you have learned on outdoor events:
No matter where I go God is there!