Jason Lee Bio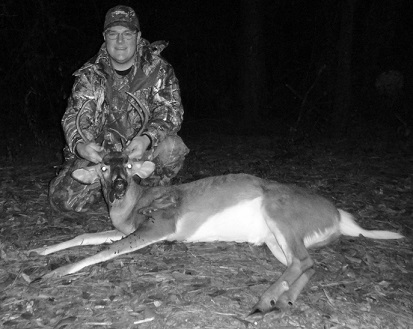 Occupation:
Director of IT

Family Members:
Priscilla (Wife)
Rachel (Daughter)
Joshua (Son)
Hometown:
Jacksonville, FL
Favorite Outdoor Activities:
Brim Fishing or Deer Hunting
Favorite Places to go:
Palatka, FL - Fishing
Estill, SC - Deer Hunting
All-time Outdoor Highlight:
Catching tons of Shell Cracker with my Grandfather at Rodman Reservoir
Best Fishing Memory:
Camping and Fishing at Rodman with my Grandfather
Favorite Fishing Technique:
Bait Casting or Still Fishing
Favorite Place to shop for Outdoor gear:
Bass Pro Shop (Though there is not one in Jacksonville so I go to Gander Mountain a lot)
Favorite Equipment (Guns, Boats, Reels, Tents, ATVs, Clothing, etc):
Penn Fishing Reels
Browning X-Bolt Rifle
Real Tree Clothing
Favorite Wild Game Food:
Smoked Venison
Item in First Aid Kit you use most:
Band-Aids / Neosporin - Always nicking a knuckle or something
Person most responsible for cultivating your love for the outdoors:
My Grandfather who was the Quintessential Outdoorsman
Favorite Scripture:
Proverbs 3:5 & 6
Trust in the LORD with all thine heart; and lean not unto thine own understanding.
In all thy ways acknowledge him, and he shall direct thy paths.
Any spiritual lessons you have learned on outdoor events:
Mainly patience and being still to listen. This applies to our relationship with God. He does not answer on our timetable and often we are too "loud" to know when He is leading or opening doors for us. On a separate note, also being still to enjoy and appreciate the beauty of God's creation. What a wonderful creator God that we have!